The First of the West Coast
Major Events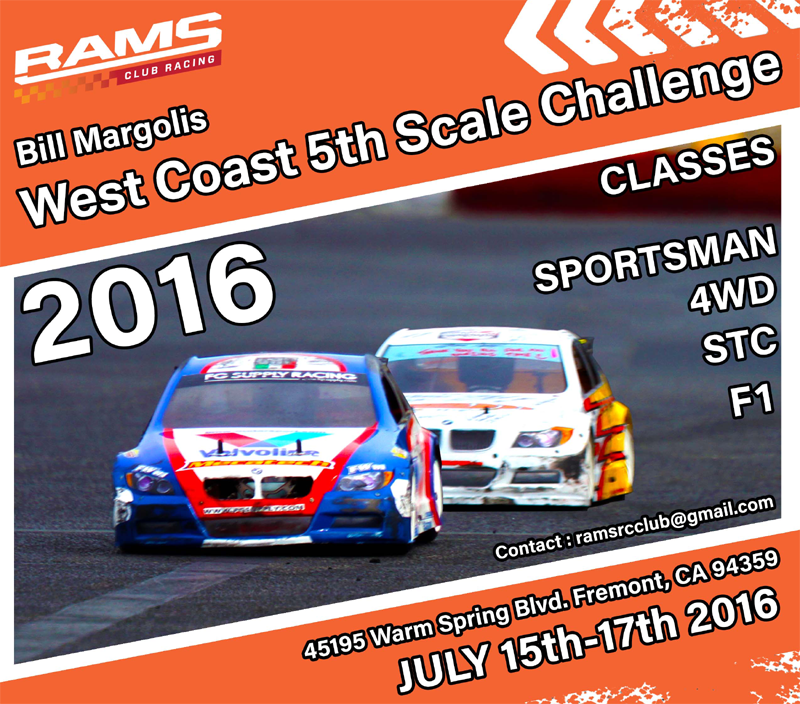 Click image for full flyer
Warm Springs Visit
The weekend of May 14 some of the Socal Crew headed up north for a double race day weekend. Run some electric on Saturday and gather some track data on Sunday. I believe it was said....we have to verify the data, Victor set a new fast lap during quals. But in the main it was Todd Rizzo with fastest lap with his Rizzo/Beast Motor in his RS5 with a 16.680. The Goodwine's had a rough day of it with Phil not making the start with drivetrain issues and Kyle after qualifying 3rd, while running 4th had a shock failure. Dan Kim was your number 2 qualifier and had issues as well. And what can we say about Arnold. Well a couple of shots in the video says it all.
Your top 5: 1st - Victor Garcia, 2nd - Todd Rizzo, 3rd - Mike Tollner, 4th - Cedric Collins 5th - Dave Colbert. Can't wait to make it back up the Bill Margolis West Coast Challenge. If you have a 5th scale dust it off and come on up, this will be a good one. Meet and great social planned for Saturday after the qualifying.
Like in Star Wars...lol. There is another...Oh wait there may be another Garcia. Victor Jr ran in 5th scale Sportsman for the first time, Dad couldn't keep the car away from him but sadly had to pull rank so he could run his race. We'll see ya on the track Jr.
As Usual, thanks to Steve, Tim, Arnold, Tony and Dan for the hospitality.
Full results for the weekend here
Victor Garcia Wins
The Airtronics Grand Prix 5th Scale A Main
Victor started from pole and never looked back. Craig kept it close for the first couple of laps but that was it. Phil ran a solid third. Tom Wong came home in 4th and Alan Trump in 5th.

On a picture perfect weekend in Southern California that was missing the recent Heat Waves it produced a great weekend of racing. Everyone adapted to the track and the surface. Special attention was needed by mid Saturday as the traction level was so high cars were getting on two wheels into the sweeper. The surprise of the weekend had to be Robbie Cerrato having the TQ for two rounds of the STC qualifying but even he had to know that was going to be short lived as the last round of the day Markus Feldman laid down the law and improved on that time by three laps bringing Arnaldi and Weigerding in tow. That lead into the evenings events and the meet and great social at Buffalo Wild Wings, everyone one enjoyed themselves that night. The STC main would not disappoint in excitement either (watch and enjoy). The usual suspects in the US were present for F1 with a great battle between Southern and Northern California drivers. The GT Race had a new first time racer take the win and Lito Reyes upstaged Dwayne Lawler to grab the TQ in the Super Bike category but could not bring home the trophy.
STC A Main
Race Organizers would like to thank the following sponsors: FG Supply.com, VSpeed Racing, Goodwine Racing, Genius, Samba, Mecatech, WC5S.com (West Coast 5th Scale), PMT, RC Modelsport, Killam Racing, Feldman Racing, Brooks Racing and the RAMS.
1st Markus Feldman 2nd Robbie Cerrato 3rd Marco Weigerding 4th Frank Killam 5th Tony Vega
6th Carlos Cartagena 7th Craig Kaplan (not pictured) 8th B A Arnaldi 9th Arnold Mercado 10th Joel Abreu
B-Main
STC A Main Trophies
GT A Main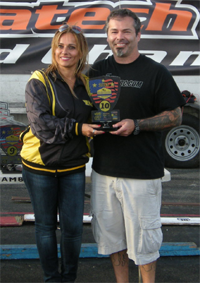 1st Francisco Hernandez 2nd Hau Ching Liao 3rd Frank Pena 4th Bob Sarnelle 5th Alan Trump (NP)
6th - Tom Wong 7th - James Stuard 8th - Tony Faskett 9th - David Bellenger (NP) 10th - Brian Tucker
F1 A Main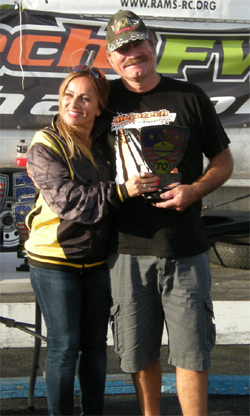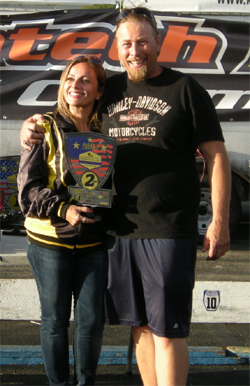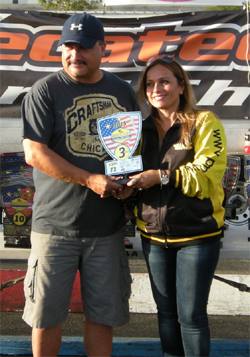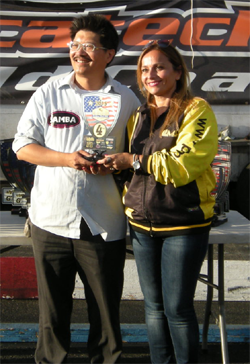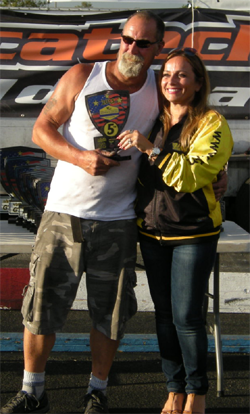 Bob Sarnelle TQ and 1st Place 2nd Bryn Faskett 3rd Steve Sanchez 4th Haun Ching Liao 5th Mark Brennen
IGT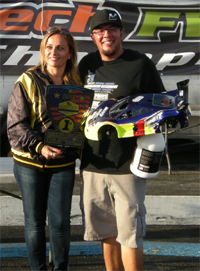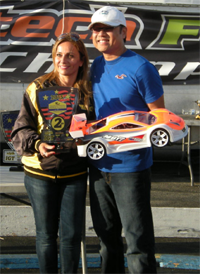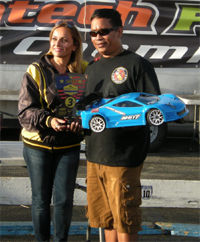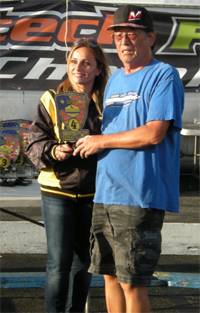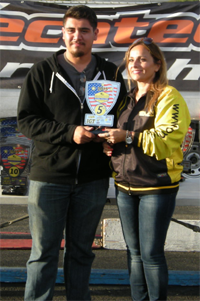 1st - Robbie Cerrato 2nd - Dan Almario 3rd - Mike Solis 4th - Moto Ishibashi 5th - Francisco Hernandez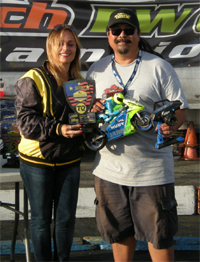 Lito Reyes TQ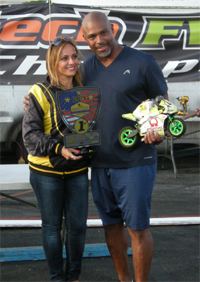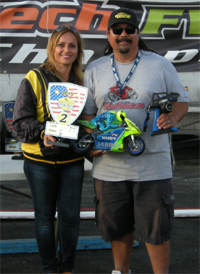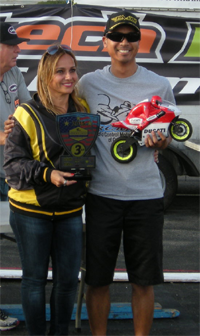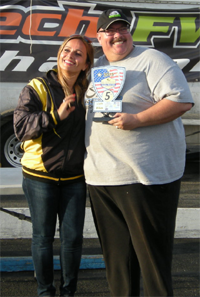 1st - Dwayne Lawler 2nd - Lito Reyes 3rd - Ian Francisco 4th - Craig Kaplan (not pictured) 5th - Kevin Hicks
---

West Coast Challenge 2015
Hot, Hot, Hot... To say the least. And that was the competition. The weather was also on the steep end of the gauge as some of the beginnings of the storm to the south started to make its way in on Sunday and the humidity went up. There was no issue with grip as an abundance of rubber was being put down. Cars could traction roll if not carefull. Track temp on Sunday was 140+. Awesome layout with a high speed sweeper and curbs to keep you honest. Kudos to the RAMS, Warm Springs Raceway and the whole crew that put on this great event.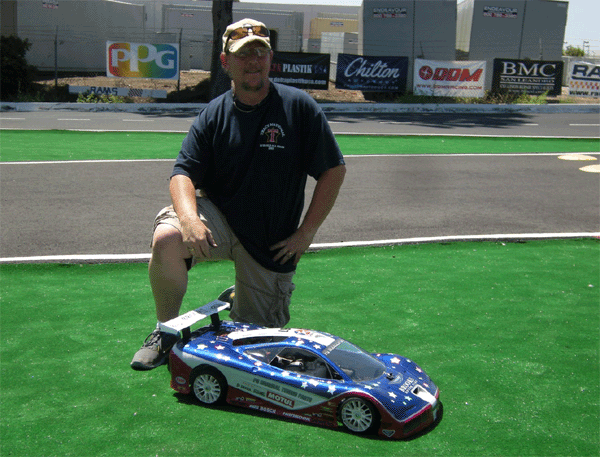 Concourse Winner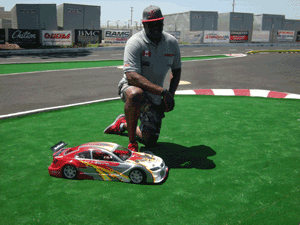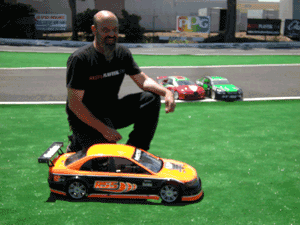 2nd 3rd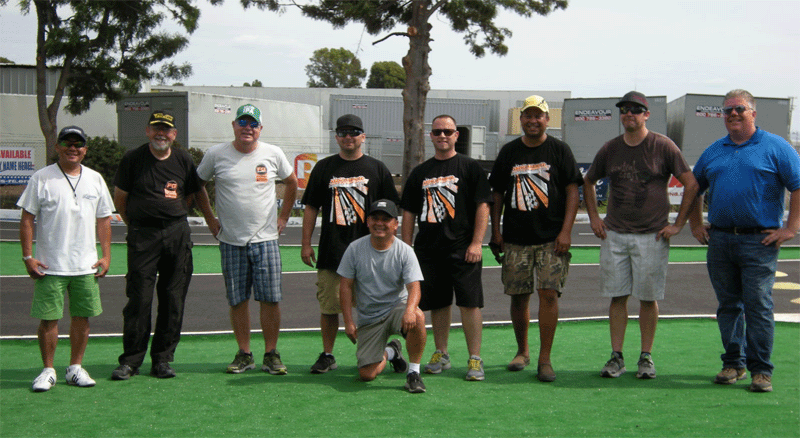 STC A Main Field
Arnold Mercado (3) - Frank Killam (1) - Victor Garcia (2) - Tony Vega (4) - Mike Tollner (5) - Cedric Collins (6) - Steve Gerace (8) - Daniel Colhour (Bump) Tony Nguyen (Bump)
Not Pictured - Todd Rizzo (7)
The STC main started with pole sitter Frank Killam laying down the law early to get clear of what was expected to be a hard charging pack. Frank got a break when Victor Garcia went wide in Turn 1 and confused the pack a little which gave Frank the break he needed to begin his check out run. At that point it was the back and forth battle with Victor, Arnold Mercado and Tony Vega. Victor began to have issues with his ride and that allowed Arnold and Tony through. Between the two Arnold was on a career run and posed a threat to Frank if he even thought about a bobble. But for Over Killam that wasn't going to happen. Lap after Lap ever consistent with feedback from Sarnelle during the race Frank dialed it back a little with a few minutes till the end to make sure he made it on gas as he had the field covered with laps.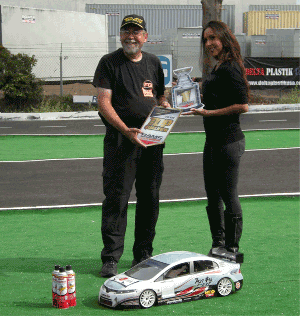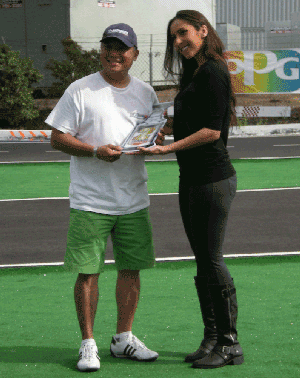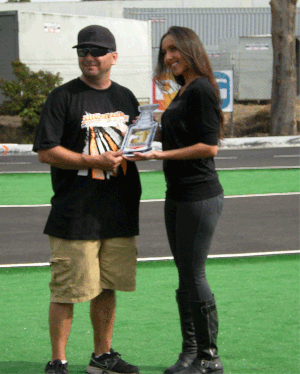 1st - Frank Killam 2nd - Arnold Mercado 3rd - Tony Vega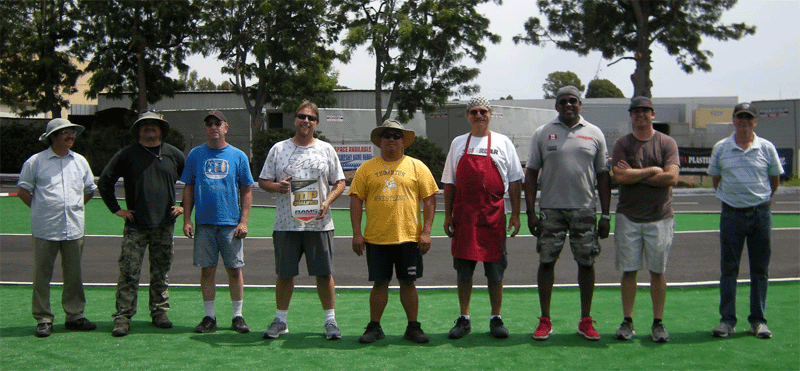 F1 A Main
Hau-Ching Liao (5) - Steve Sanchez (7) - Anthony Varvare (8) - Bryn Foskette (1) - Fernando Jose (9) - Robert Sarnelle (2) - Hugh Lawson (4) - Steve Gerace (3) - Al Gerace (6)
The F1 race started with Bob Sarnelle leading the way for the first 7 corners until the curbs in corner 8 sent him flying into the catch fence. Going from first to last and handing the lead over to Hugh Lawson followed by Team Gerace, Hau-Ching Liao in 4th and Bryn Foskett in 5th. Gerace would get by Lawson and lead for a while. Bob would play the catch up game while Lawson, Gerace and Foskett traded places with Foskett mounting his ultimate charge for the top spot. As the announcer commented with his Duck Tail wing he had his car hooked up and worked his way speedily to the top spot. But maybe too speedily. As the race time came to an end, Bryn ran out of gas at the 29 minute mark. But he had done enough damage to the field that he still finished 1 lap ahead of second place finisher Bob Sarnelle. Hau-Ching Liao would finish 3rd. Steve Gerace 4th and Al Gerace 5th.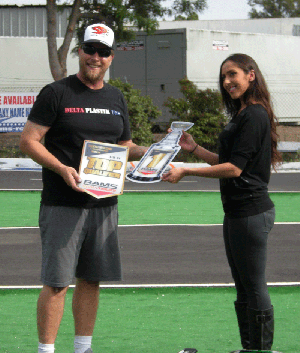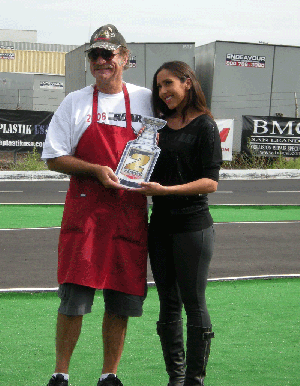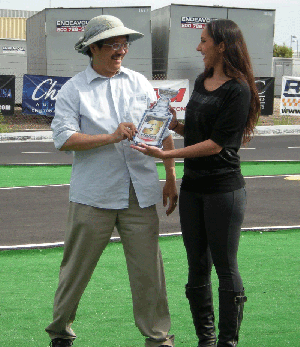 Bryn Foskett (1) FINALLY Robert Sarnelle (2) Hau-Ching Liao (3)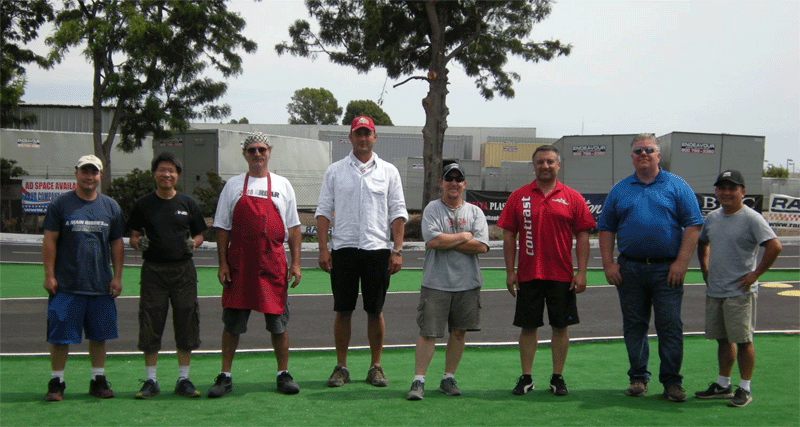 4WD A Main
Ty Lam (5) - Huan-Ching Liao (8) - Robert Sarnelle (3) - Dan Kim (1) - Terry Campbell (Bump) - Larry Bani (4) - Daniel Colhour (6) - Tony Nguyen (Bump)
The 4WD race started with pole sitter Dan Kim leading the first part of the race and looked like he was going to be untouchable for the win. As Dan had issues and Bob having a similar start he had in the F1 race it was up for grabs for the end of this race. As Dan's issue mounted Larry Bani got closer to number one and Bob Sarnelle mounting another run from the rear got closer. Larry and Bob got closer and Dan continued to have issues. Huan-Ching Liao ran his pace and let the race come to him. Your top five in the 4WD A Main were Larry Bani, Robert Sarnelle, Huan-Ching Liao, Tony Nguyen and Daniel Colhour.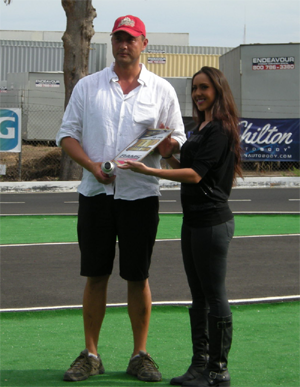 TQ - Dan Kim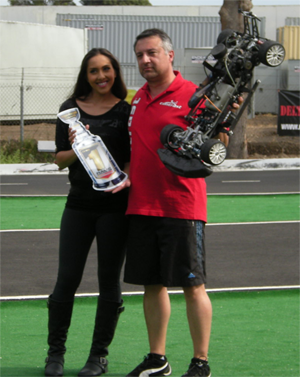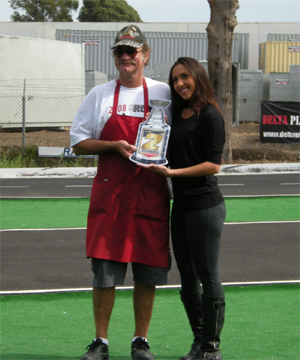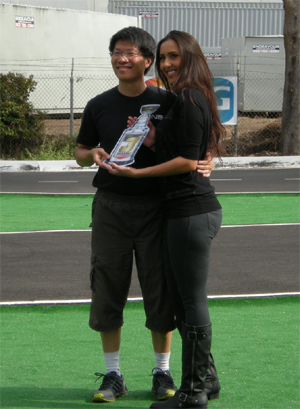 1st - Larry Bani 2nd - Robert Sarnelle 3rd - Huan-Ching Liao
Your quick lap times for the weekend
| | | | | | |
| --- | --- | --- | --- | --- | --- |
| 4WD | | F1 | | STC | |
| | | | | | |
| Dan Kim | 16.901 | Hugh Lawson | 18.189 | Frank Killam | 16.843 |
| Larry Bani | 17.466 | Bryn Foskett | 18.271 | Victor Garcia | 17.022 |
| Todd Rizzo | 17.504 | Robert Sarnelle | 18.426 | Arnold Mercado | 17.123 |
| Robert Sarnelle | 17.780 | Steve Gerace | 18.631 | Tony Vega | 17.228 |
| Eric Vasutin | 18.005 | Steve Sanchez | 19.029 | Cedric Collins | 17.451 |
| Tony Faria | 18.151 | Hau-Ching Liao | 19.201 | Mike Tollner | 17.590 |
| Jojo Bayabo | 18.614 | Jose Fernando | 19.224 | Bryn Foskett | 17.700 |
| Huan-Ching Liao | 18.678 | Tim Gerace | 19.602 | Todd Rizzo | 17.853 |
| Tony Foskett | 18.834 | Al Gerace | 19.888 | Dan Kim | 18.211 |
| Ty Lam | 18.897 | Anthony Varvare | 20.721 | Hugh Lawson | 18.286 |
| Kenny Kimbrow | 19.086 | | | Steve Gerace | 18.329 |
| Daniel Colhour | 19.140 | | | Charlie Mostek | 18.481 |
| Terry Campbell | 19.269 | | | Daniel Colhour | 18.864 |
| Byron Soublet | 19.385 | | | Hau-Ching Liao | 18.950 |
| Henry Cruz | 19.487 | | | Tony Nguyen | 18.982 |
| Tony Nguyen | 19.802 | | | Huan-Ching Liao | 19.603 |
| Marc Drennen | 20.074 | | | Steve Sanchez | 19.679 |
| Jo Montes | 20.837 | | | Al Gerace | 20.258 |
| Bill Margolis | 20.939 | | | | |
| | | | | | |
| | | | | | |
---

2015 Region 12 Champion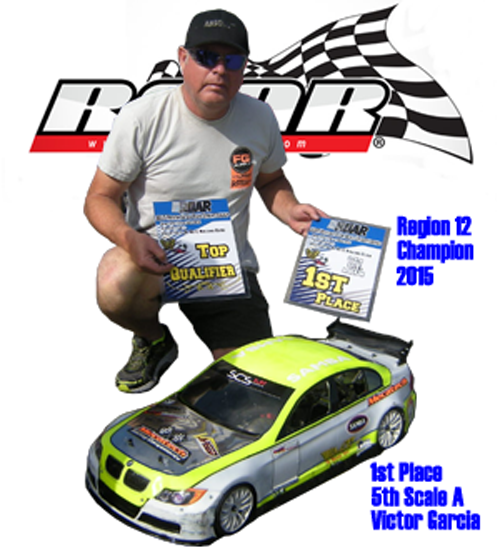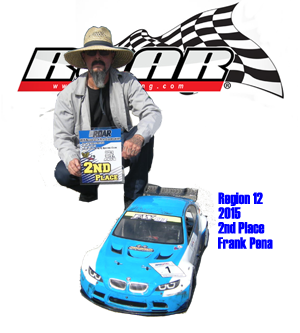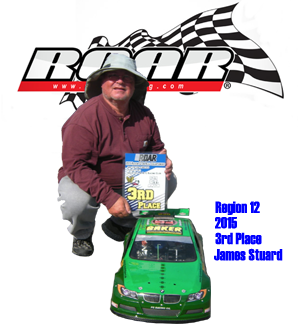 The track conditions for the 5th scalers was not the greatest. The combination of the overcast day, all the foam and oil from the Nitro guys (plus the early morning mist) made for and interesting event. Round 2 Victor got the TQ and couldn't better the run in round 3 or 4. Frank Pena and James Stuard continued to make adjustments to their cars but it was Tom Wong that came out of no where in Round 2 to grab the second place on the grid. Completing the top 5 was Cedric Collins (4th) and James Stuard (5th).
The race would start off with a bang, literally as Tom got into the back of Victor which bottled up Frank and let Cedric and James through. Cedric hounded leader Tom trying to get by for the first three laps until something started not feeling right. The car was good in the infield but down the straight it began to lose power at the halfway mark. This allowed Victor and Frank to catch up quickly. After both got by he retired the car. Victor now on a mission seeking out his punter...lol. The track was still a handful and Victor made quick work of getting by Tom. Frank ran a consistent 2nd place for the latter half of the race. James and Kenneth Watkins would finish on the same lap with James getting 3rd.
What you never want to happen to your 5th scale....Check it out Same as above but you can expand
---
---
GLARCRC May 3rd
Everyone is starting to put in the work to get ready for the International Challenge. This year will have its biggest contingent of Euro's, South American's and Dominican Republicans. Victor Garcia had his Mecatech dialed in and running his new tuned pipe and was on fire but failed to make the distance of the 20 minute main. Maybe the extended warmup came into play but that didn't hurt him from taking the win. Ced Collins (Mecatech) starting last came back to pass Frank Pena (Mecatech) at the line to take second. Craig Kaplan (FG Evo), who was running solidly in second the first half of the race would come home in fourth. James Stuard would come home in 5th in his new Mecatech.
---
RAMS 2014 Series Winners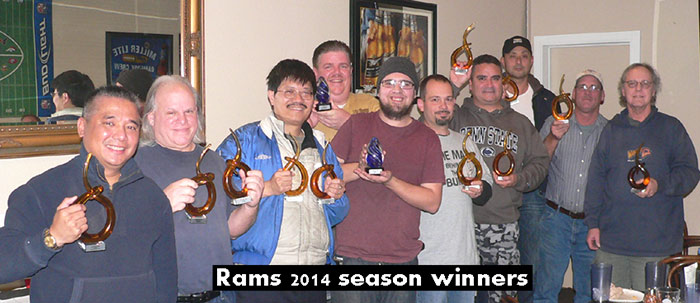 5th Scale International Challenge 2014
Presented by FG supply.com

The So Cal rematch of the No Cal race the RAMS Club came to establish their dominance in the West Coast 5th scale area. But a few So Cal drivers had a say in the matter. Victor Garcia was TQ in the STC class Tom Wong TQ in the GT class and Cedric Collins TQ in the F1 class. Now TQ doesn't always translate to a win. Frank Killam won STC, David Bellinger won GT and Hau-Ching Liao (No Cal) won F1.
The IGT class was won by Robbie Corrato and the unlimited Bikes by Litto Reyes and the Stock Handout as well.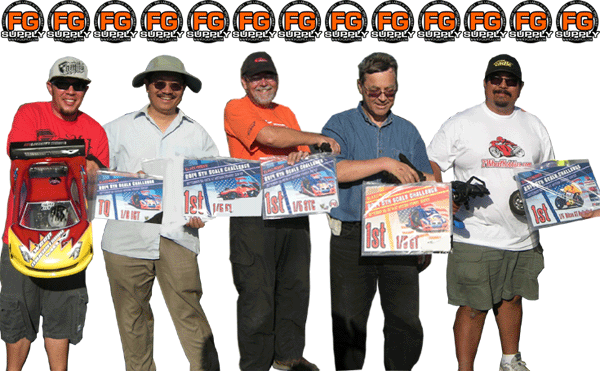 IGT F1 STC GT Unl / Handout
Robbie Corrato Hau-Ching Liao Frank Killam David Bellinger Lito Reyes