---

West Coast Challenge 2015
Hot, Hot, Hot... To say the least. And that was the competition. The weather was also on the steep end of the gauge as some of the beginnings of the storm to the south started to make its way in on Sunday and the humidity went up. There was no issue with grip as an abundance of rubber was being put down. Cars could traction roll if not carefull. Track temp on Sunday was 140+. Awesome layout with a high speed sweeper and curbs to keep you honest. Kudos to the RAMS, Warm Springs Raceway and the whole crew that put on this great event.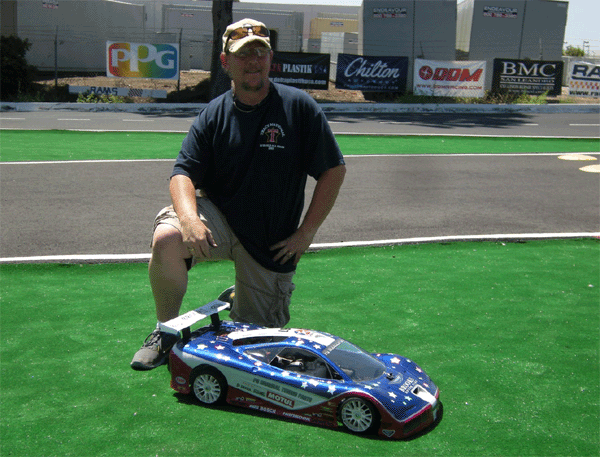 Concourse Winner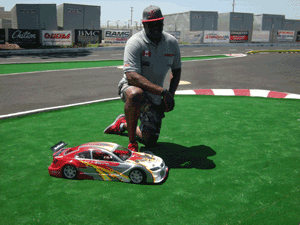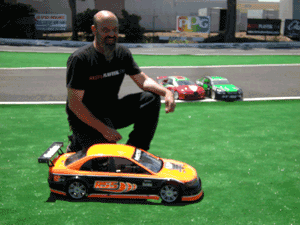 2nd 3rd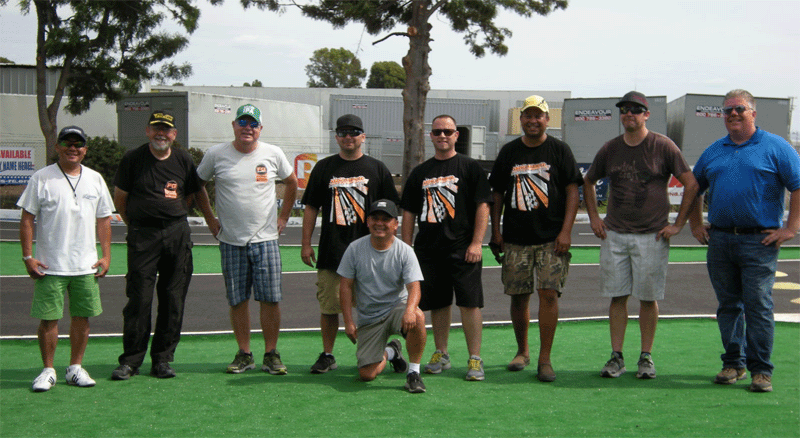 STC A Main Field
Arnold Mercado (3) - Frank Killam (1) - Victor Garcia (2) - Tony Vega (4) - Mike Tollner (5) - Cedric Collins (6) - Steve Gerace (8) - Daniel Colhour (Bump) Tony Nguyen (Bump)
Not Pictured - Todd Rizzo (7)
The STC main started with pole sitter Frank Killam laying down the law early to get clear of what was expected to be a hard charging pack. Frank got a break when Victor Garcia went wide in Turn 1 and confused the pack a little which gave Frank the break he needed to begin his check out run. At that point it was the back and forth battle with Victor, Arnold Mercado and Tony Vega. Victor began to have issues with his ride and that allowed Arnold and Tony through. Between the two Arnold was on a career run and posed a threat to Frank if he even thought about a bobble. But for Over Killam that wasn't going to happen. Lap after Lap ever consistent with feedback from Sarnelle during the race Frank dialed it back a little with a few minutes till the end to make sure he made it on gas as he had the field covered with laps.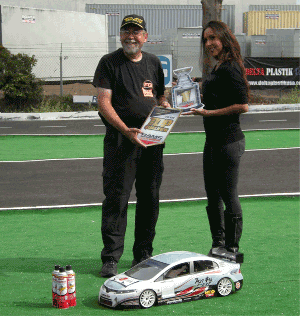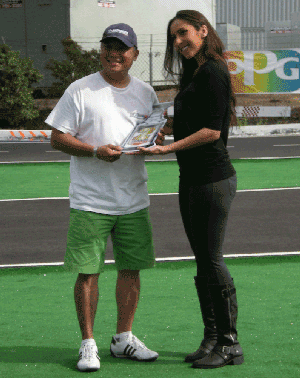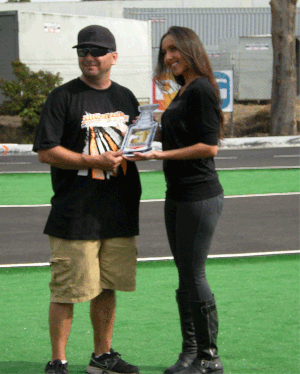 1st - Frank Killam 2nd - Arnold Mercado 3rd - Tony Vega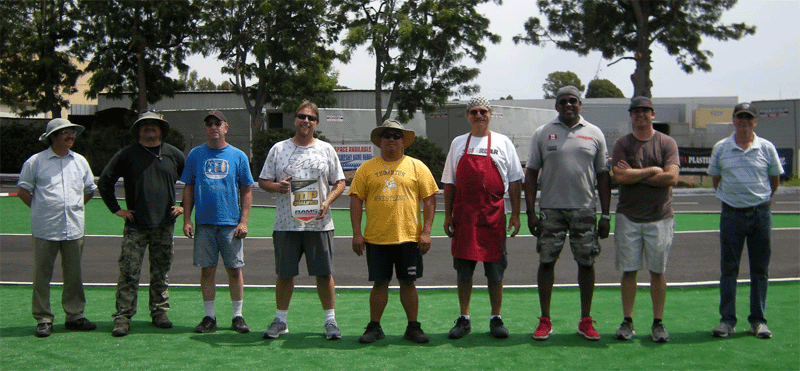 F1 A Main
Hau-Ching Liao (5) - Steve Sanchez (7) - Anthony Varvare (8) - Bryn Foskette (1) - Fernando Jose (9) - Robert Sarnelle (2) - Hugh Lawson (4) - Steve Gerace (3) - Al Gerace (6)
The F1 race started with Bob Sarnelle leading the way for the first 7 corners until the curbs in corner 8 sent him flying into the catch fence. Going from first to last and handing the lead over to Hugh Lawson followed by Team Gerace, Hau-Ching Liao in 4th and Bryn Foskett in 5th. Gerace would get by Lawson and lead for a while. Bob would play the catch up game while Lawson, Gerace and Foskett traded places with Foskett mounting his ultimate charge for the top spot. As the announcer commented with his Duck Tail wing he had his car hooked up and worked his way speedily to the top spot. But maybe too speedily. As the race time came to an end, Bryn ran out of gas at the 29 minute mark. But he had done enough damage to the field that he still finished 1 lap ahead of second place finisher Bob Sarnelle. Hau-Ching Liao would finish 3rd. Steve Gerace 4th and Al Gerace 5th.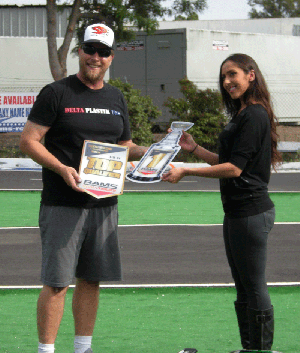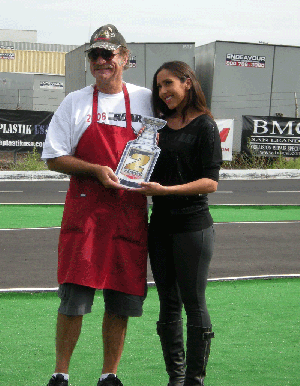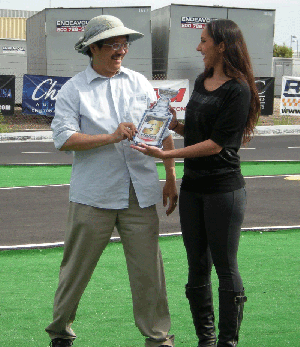 Bryn Foskett (1) FINALLY Robert Sarnelle (2) Hau-Ching Liao (3)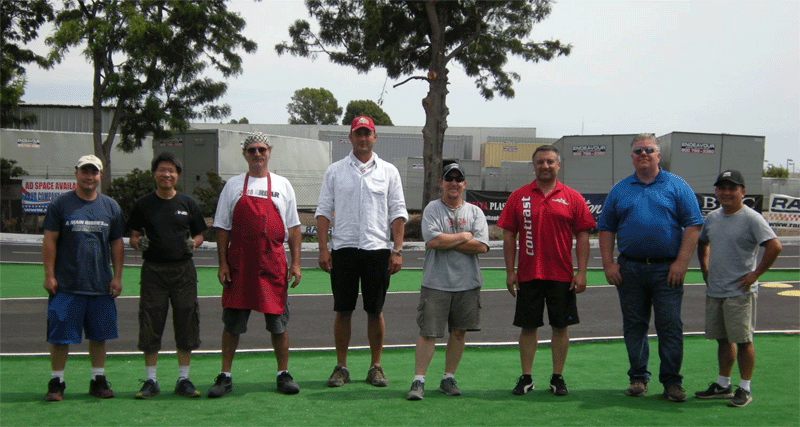 4WD A Main
Ty Lam (5) - Huan-Ching Liao (8) - Robert Sarnelle (3) - Dan Kim (1) - Terry Campbell (Bump) - Larry Bani (4) - Daniel Colhour (6) - Tony Nguyen (Bump)
The 4WD race started with pole sitter Dan Kim leading the first part of the race and looked like he was going to be untouchable for the win. As Dan had issues and Bob having a similar start he had in the F1 race it was up for grabs for the end of this race. As Dan's issue mounted Larry Bani got closer to number one and Bob Sarnelle mounting another run from the rear got closer. Larry and Bob got closer and Dan continued to have issues. Huan-Ching Liao ran his pace and let the race come to him. Your top five in the 4WD A Main were Larry Bani, Robert Sarnelle, Huan-Ching Liao, Tony Nguyen and Daniel Colhour.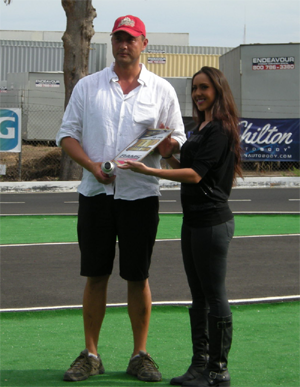 TQ - Dan Kim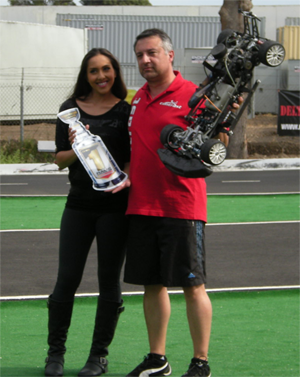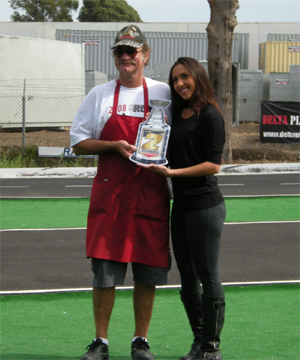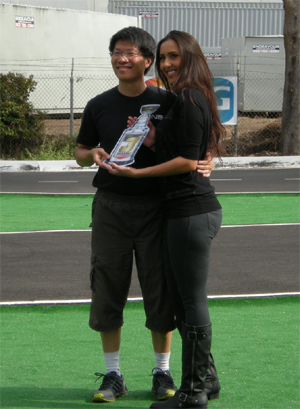 1st - Larry Bani 2nd - Robert Sarnelle 3rd - Huan-Ching Liao
Your quick lap times for the weekend
| | | | | | |
| --- | --- | --- | --- | --- | --- |
| 4WD | | F1 | | STC | |
| | | | | | |
| Dan Kim | 16.901 | Hugh Lawson | 18.189 | Frank Killam | 16.843 |
| Larry Bani | 17.466 | Bryn Foskett | 18.271 | Victor Garcia | 17.022 |
| Todd Rizzo | 17.504 | Robert Sarnelle | 18.426 | Arnold Mercado | 17.123 |
| Robert Sarnelle | 17.780 | Steve Gerace | 18.631 | Tony Vega | 17.228 |
| Eric Vasutin | 18.005 | Steve Sanchez | 19.029 | Cedric Collins | 17.451 |
| Tony Faria | 18.151 | Hau-Ching Liao | 19.201 | Mike Tollner | 17.590 |
| Jojo Bayabo | 18.614 | Jose Fernando | 19.224 | Bryn Foskett | 17.700 |
| Huan-Ching Liao | 18.678 | Tim Gerace | 19.602 | Todd Rizzo | 17.853 |
| Tony Foskett | 18.834 | Al Gerace | 19.888 | Dan Kim | 18.211 |
| Ty Lam | 18.897 | Anthony Varvare | 20.721 | Hugh Lawson | 18.286 |
| Kenny Kimbrow | 19.086 | | | Steve Gerace | 18.329 |
| Daniel Colhour | 19.140 | | | Charlie Mostek | 18.481 |
| Terry Campbell | 19.269 | | | Daniel Colhour | 18.864 |
| Byron Soublet | 19.385 | | | Hau-Ching Liao | 18.950 |
| Henry Cruz | 19.487 | | | Tony Nguyen | 18.982 |
| Tony Nguyen | 19.802 | | | Huan-Ching Liao | 19.603 |
| Marc Drennen | 20.074 | | | Steve Sanchez | 19.679 |
| Jo Montes | 20.837 | | | Al Gerace | 20.258 |
| Bill Margolis | 20.939 | | | | |
| | | | | | |
| | | | | | |
---