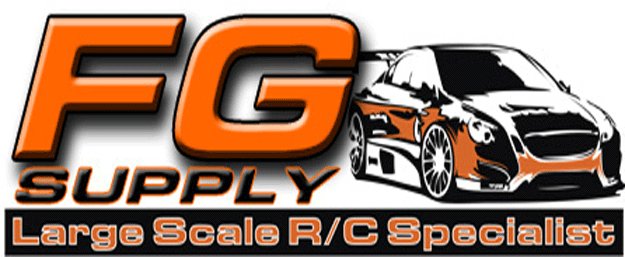 Well if you were a betting man your odds would have been on Markus Feldman for the win. Markus meticulously dialed in his car during practice and the quals and improved every session out to grab pole. While his main competitors where chasing their personal best, Markus always seemed one step or lets say 1 lap ahead. Being that same betting person if you knew Austin Sarnelle's history you may have given him a shot at the win, at least a top 5 battling with the Goodwine's the Kaplan's, the Vega's and Mr. Abreu. But no one had seen Austin outside of GLARCRC for some years. Just having received his Mecatech just a month before the race he surely would have been an odds on underdog for the race. But Austin did what Austin does and had a solid car during qual, improving as well and a solid performance during the race. But his race time wasn't that easy, he had to contend with Kyle Goodwine. 3rd place qualifier and not wanting to end up in 3rd. Kyle and Austin had some great battles throughout the race with Austin starting to put in a gap on Kyle latter in the race. Phil Goodwine (Major Sponsor) started off strong and was one of four drivers in the main to dip into the 21 second range....21 SECONDS. But couldn't match the pace for the duration and finished 4th. Joel Abreu improved on his outing from last year grabbing 5th spot in the finale. He did have to worry about a hard charging Craig Kaplan that finished 6th, 9 seconds behind.
Congrats the Markus Feldman on his win at the FG International Challenge.
4th Phil Goodwine

- 2nd Austin Sarnelle

- 1st Markus Feldman

- 3rd Kyle Goodwine

- 5th Joel Abreu

STC A Main Video
Car Entry Display
The GT / 4WD Main was heavily contested as well. Alan Trump, your TQ lead the majority of the race until having issues late in the main and began dropping down the order. That left the door open for hard charging Daniel Kim (Brooks Motors / Warm Springs Raceway / Race Sponsor). I'm sure that made Daniels weekend bringing home the #1 trophy. The rest of the GT top 5 was something no one would have predicted. Mr Bob Sarnelle, usually on top would have to settle for 3rd this year, Tom Wong had a career best at the challenge and grabbed 4th for the weekend, and our TQ Alan Trump had to settle for 5th with knowing the #1 was sitting within his reach.
2nd Cesar Pegero -

1st Daniel Kim -

3rd Bob Sarnelle -

4th Tom Wong -

5th Alan Trump (TQ) -

GT A Main Video
Bob Sarnelle must have felt the world was coming down on him. The usual number 1 in GT and F1 had some stout competition this year. Hugh Lawson has always been competitive but something always got in the way. Not this time. The RS5 driver put it all together on lap 3 and took the lead from Bob and never looked back. Bryn Foskett, Ods on favorite, Winner at the Bill Margolis West Coast Challenge just couldn't get it together and would finish 7th with varying mechanical issues. And then there is Hau, he always seems to end up on the podium. Congrats Gents.
2nd Bob Sarnelle (TQ) -

1st Hugh Lawson -
3rd Hau Chin-Liao -

F1 A Main Video
The GT8 class had its share of fun and suspense. Dan Almario (TQ) jumped out to an early lead until around lap 8 Henry C took the lead and looked to have things under control for the win until lap 47 when it stopped, about 5 minutes from the end. That handed the lead back to our pole sitter Dan and the eventual win. Biboy Angeles was solid the whole ran and brought home the 2nd place trophy (and something weighing about 23 lbs someone at home doesn't know about yet :) ), and being consistent and patient, Club President Glenn Williams would come home 3rd.
2nd Biboy Angeles -

1st Dan Almario -

3rd Glenn Williams
Ian Francisco was the rider on a mission this weekend at the Challenge. Ian dominated qualifying and in the first two races of the triple A mains he was head honcho giving him the win. Dwayne Lawler and Lito Reyes always seem to find their way to the podium at the big races. Congrats.
2nd Dwayne Lawler -

1st Ian Francisco -

3rd Lito Reyes -

SBK A3 Main Video
Keep Checking......Updates as the are produced....Videos Coming
KO Propo 2016
Phil Goodwine domination
After Phil had a less than spectacular outing at the last GLARCRC club race, he put all that behind him to come out for the KO Grandprix and dominate the weekend. He looked solid in practice and wasted no time in putting in the time to grab TQ over Craig Kaplan and Victor Garcia. Phil went on to win by 4 laps over Kaplan and Pena.
July 15 the track is open for practice and the racers that took the day off start to arrive to get some practice in and the initial shakedown. Warm Springs is an awesome track and it can have you chasing a setup depending on the track temp at the time of day and the amount of rubber being laid down. With 40 plus participants the rubber will not be an issue. As the rubber and temps (ambient) started to build traction roll became the big obstacle to avoid. Some drivers had issues during Saturday qualifying and a couple throwing last ditch setups at the car for the final qualifier on Sunday to make the show. All of the mains had some excitment except for F1, Bryn Foskett had the dominating car on his way to an 8 lap victory over the Gerace's of Tim and Al. In Sportsman, your TQ Jojo Bayabo had the field covered. Danny Pacho tried to make things interesting early on and with an early race bobble by Jojo, Danny took the lead on lap 12. But that was short lived as Jojo regained the lead and never looked back. 4WD looked to be Dan Kim's race to lose and unfortunately fate raised its head and a T-Bone took him out of the race early. That left Dave Stroud to take over and never look back. Larry Bani made a late race charge and closed the deficit done to one lap. STC was its own animal in constant flux in the early part of the race with lead changes among Tony Vega, Victor Garcia and Phil Goodwine. Tony took the lead on lap 27 and held on to take the win 9 seconds over Victor Garcia breaking the So Cal streak at the event.
STC A Main Drivers
Fast Laps for the Weekend
Here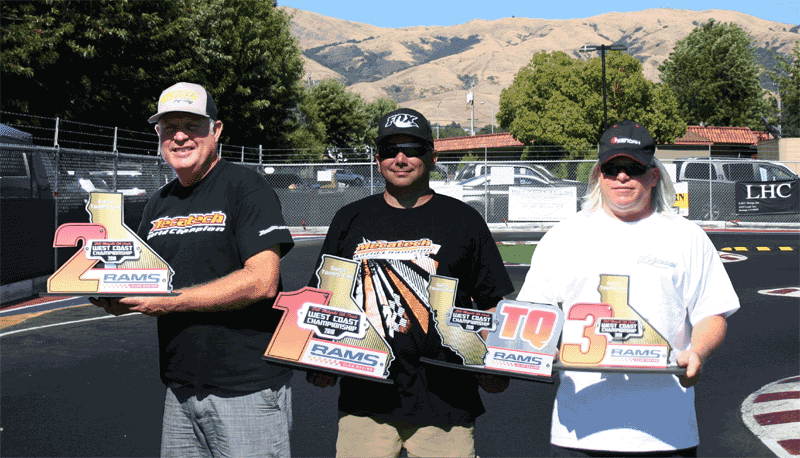 STC
2. Victor Garcia 1. Tony Vega 3. Todd Rizzo
Sportsman
3. Huan-Ching Liao 1. Jojo Bayabo 2. Greg Shum
F1
3. Al Gerace 1. Bryn Foskett 2. Tim Gerace
4WD
3. Tony Faria 2. Larry Bani 1. Dave Stroud TQ. Dan Kim